SquidWeb's mailbox is an integrated email system that allows for the creation and processing of mail for public or private mailboxes – an address can be created for individual team members or company departments.
As well as being a fully functional email client- allowing users to read, filter, reply, forward and create emails – Mailbox allows users to assign an email to other destination within in SquidWeb:
An email can be assigned to a specific category such as 'Projects', 'Invoices' or 'Receipts'. Once a mail is assigned to 'Projects' for example, it may then be attached to an existing project or a new project can be created directly from the mailbox page:
To create a project directly from the mailbox page, right click the email in the email list or its attachment, the email must have the status 'assigned' or 'received'.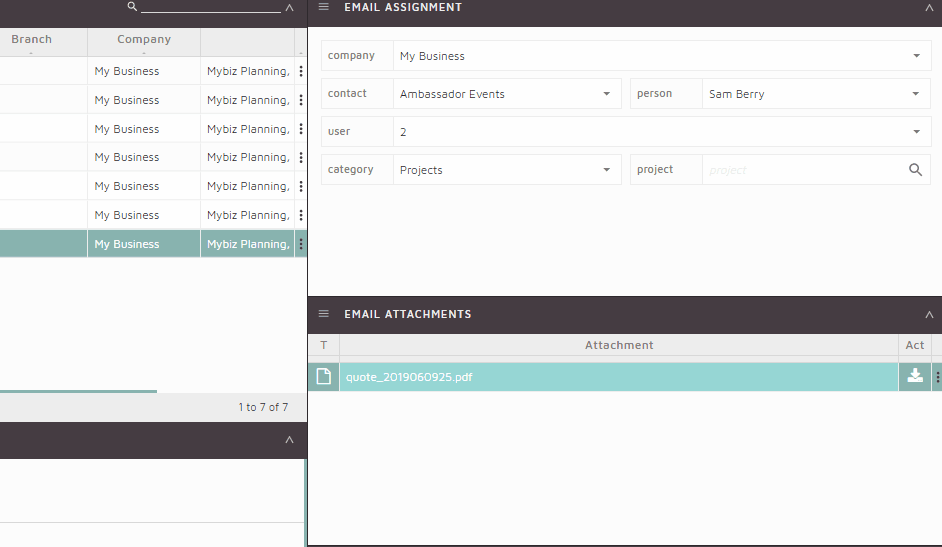 Emails and their attachments will be accessible from their assigned destination.
Draft emails can also be created to prevent email lose. If SquidWeb is accidentally closed, or refreshed, for any reason while an email is being written, a draft email will be created to store the email. Saving the content of the mail to be sent later. Once created draft emails can be accessed by selecting the number in the email list container header. Clicking on this button will filter the email list to show only mail with the status "Draft":


Draft emails can also be filtered by selecting "Draft" from the status filter in the email list header. For details on how to display and interact with the status filter, as well as full details on all other Mailbox features, layout and functionality, watch our tutorial video here:
https://squidweb.info/wp-content/uploads/header-logo.png
0
0
SuperAdministrator
https://squidweb.info/wp-content/uploads/header-logo.png
SuperAdministrator
2019-10-09 14:48:11
2021-02-23 17:43:51
Mailbox